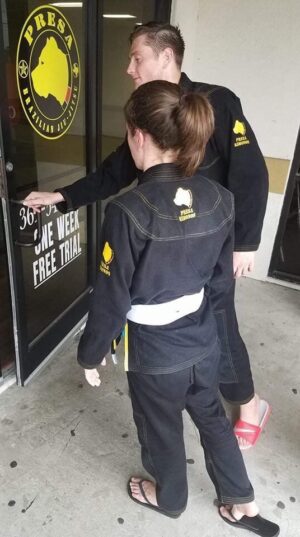 I believe 99% of the people who walk into my academy are really there to learn self-defense and lose weight. A lot of them do want to achieve the black belt, but being able to defend themselves and losing weight takes precedence. That's the reality. Also, they do not want to put in the five to ten years of training required to learn in a traditional system. They want to lose weight and learn how to defend themselves right now with practical, combative techniques.
However, many people don't come to our academy because they are either too busy, don't have a babysitter, the academy is too far, work schedules don't permit, have family responsibilities, or DON'T HAVE ENOUGH TIME!
I am available at all hours of the day except for the times that I teach at the academy. Also, keep in mind that other Brazilian Jiu-Jitsu instructors charge anywhere from $150 – $500 for one hour, just because of who they are and where they come from! What separates me from them is that I am located in your neighborhood and am willing to go that extra mile for you because I care! Hiring me is no different than purchasing a Mercedes-Benz or a Rolex. When you make that kind of purchase, you know the quality and status that come with it. When you hire me, you will get the same quality.
If you are a:
Housewife
Mr. Mom
Business Owner
Doctor/ Nurse
Refinery Worker
Or whatever profession you are in
There will be no more excuses as to why you can't workout. Dedicate some time to your well-being and I will take care of the rest. We can do this one-on-one personal training at the PRESA Academy together.
Choose from our Elite Workout Plans:
Self Defense Program
Fundamentals of Brazilian Jiu-Jitsu
PRESA BJJ Workout (3 Levels)
Rape Prevention Course
Yes, all of our personal trainers hold a certification in Presa Brazilian Jiu-Jitsu.
We offer personal training at the PRESA Brazilian Jiu-Jitsu Academy.
There are several reasons…
We offer the most comprehensive personal training programs available. We don't push people thru workouts like most personal trainers… we develop a customized strength, flexibility, and cardio for you based on you, your goals, your time available to train, your current fitness level, etc.
We guarantee your success! I will never let you leave without succeeding in each session or I will stay longer with you at my cost!
Our only focus is on helping you achieve your goals… that's it… that's what we do and we are the best at it.
This will depend upon your goals, how quickly you want to achieve them, your schedule and time available to train, and your budget. Be sure to remember that this is your health and life when considering the cost and there is nothing on earth that is more important because without it you have nothing.
On average, most clients do best when they meet with a personal trainer 2-3 times per week. People who sign up for less than that will tend to slack off and not get nearly as much out of it.
The more frequently you meet with your trainer the faster you'll see results and achieve your goals. There are several reasons for this: consistency, accountability, motivation, and guidance. You will work much harder with your trainer than on your own. Most clients we work with start out meeting with their personal trainer 3 times per week and then will gradually decrease the frequency as they progress and learn more, and feel more comfortable and confident on their own.
Just call 361-549-3597 or E-Mail us at aurelio@presabjj.com to schedule an appointment and that's it!